On wheels
On Wheels is the division within E-Demonstrations that focuses on hospitality trailers, roadshows and mobile activation.
For this purpose, we have a versatile fleet of vehicles, including vans, furniture trucks and lorries that can be personalised to customer requirements, as well as diverse luxury trailers and Airstreams.
Vision
We ensure that clients have a high-quality brand experience by getting them personally acquainted with the brand.
Perfect alignment of communication with objectives.
Flexibility to adapt events to changing circumstances.
Mission
Experience marketing allows us to go to customers directly and open a communication channel to the brand. This brings the brand and brand experience closer to the target group.
We create concepts and develop designs together with the client.
The added value: we are mobile. Not just reaching, but especially 'touching' the target group.
Experience
Sense & feel module:
Stimulation of the senses. Music, colour, fresh fragrances, sampling. Emotions are evoked. Customers experience, test, hear and taste products themselves.
Think module:
Allowing customers to think logically about the brand. Provides information on prices, allows the customer to experience the product's strengths, etc.
Act module:
Prompting the target group into action. Call4Action links offers and discounts to action.
Airstream is the world's oldest recreational vehicle company. Our 29 ft Airstream Ambassador is ideally suited as a mobile showroom.
The gullwing doors make it extremely accessible and 'open'. When both panels are open the entrance is 5.50 m wide.
In striking retro style, it has a spectacular look at events and festivals!
Our 28 ft Airstream is similar to the 29 ft model. The Airstreams are easily recognised by their distinctive rounded aluminium shapes. The Ambassador II has a different layout from the 29 ft Airstream and does not have gullwing doors.
This versatile vehicle can be used for a variety of purposes: office space, reception area, interview room, etc.
This double-expandable trailer is equipped as a multifunctional space and provides your VIP guests with an unforgettable experience.
With a surface area of about 80 m2, the trailer is very versatile and can be used for a variety of different purposes.
For long-term projects, the layout of the trailer can be customised to the client's specifications.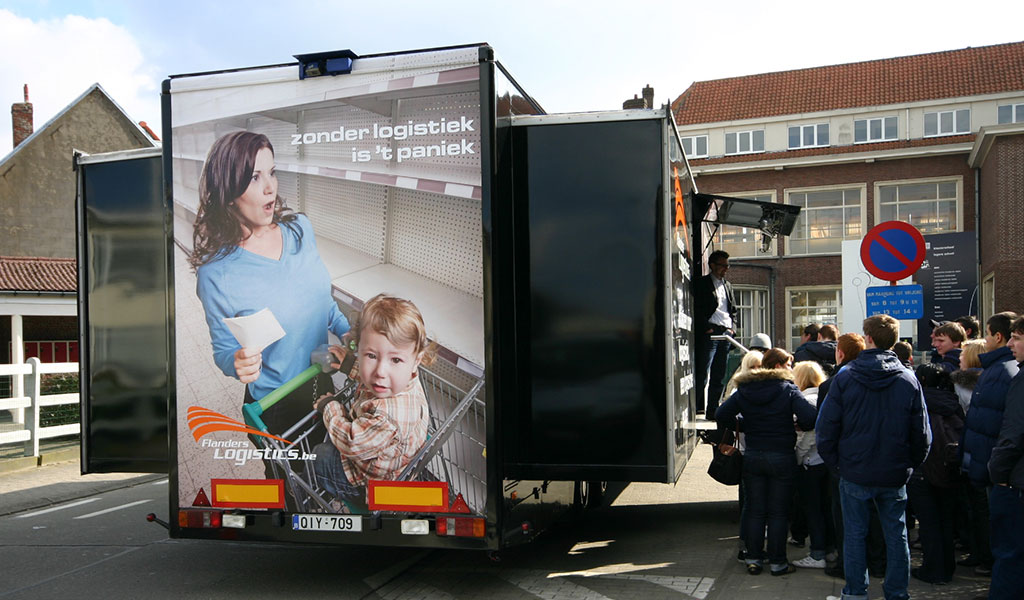 This single-expandable trailer is fitted as a restaurant, thus providing the ultimate hospitality experience. The facilities include a fully equipped kitchen and living room.
With a surface area of about 90 m2, the trailer is very versatile and can be used for a variety of different purposes.
For long-term projects, the layout of the trailer can be customised to the client's specifications.
The top trailer expands upwards and has a slide-out at the back. The space is multifunctional and can be used as either an open or closed showroom.
The vehicle's upwards expansion provides extra visibility.
These 3.5-ton trailers belong to a smaller segment of promotional vehicles. They are very versatile and find application at both small and large events.
The interior, installations and exterior cladding of these vehicles are always tailored to the customer's requirements and can be realised in no time.
This range of trailers is all about customisation.
The 'Piaggio Ape', also known as 'Vespacar' or 'Ape' (Italian for 'bee'), is a light, three-wheeled vehicle. A door on each side makes it easy to get in and out.
The Piaggio Ape is currently used mainly for commercial and promotional purposes. Its unusual look and feel are an asset that puts any brand or product in the spotlight.
Two different Piaggios are available: the mobile coffee bar and the ice-cream truck. Both vehicles are equipped to be used directly and the exterior can be readily personalised.
The Black Box is one of the larger shelter inflatables.
It covers an area of 11 x 17 meters and can be installed in next to no time. This construction can be erected on any surface whatsoever.
We can help you convert mobile container and sales units. In consultation with the client, containers can be converted into office space, showrooms, etc.
The advantages of containers are their stable base frame and stackability. They are very easy to transport and very quick to assemble.
Outdoor
This 23.25 m2, 12 mm SMD LED Wall can be put up in just 10 minutes. It provides high visibility, ensuring that the right message is delivered to a large audience. The screen can be turned through 360°, so that placement is never a problem. Perfectly suitable for festivals, sport and company events, fairs, etc.
Indoor
LEDskin® is an amazing product to be used in the field of stand building, but can also be used for other goals. It gives endless creative opportunities and next to that it guarantees fast building and a clean look when integrated in a stand, especially in accordance with beMatrix frames.
Our Promo Bikes are a sure-fire way to reach a large target group in an original way. These bikes are available in a variety of sizes and can be used in both landscape and portrait modes.
They are useful in places that are difficult to reach with larger advertising vehicles.
Are you keen to develop a brand-new project?
The E-Demonstrations team is ready to help you with 3D drawings, prints and implementation.